U2: History
The Best rock band in the wold´s past
Saturday, January 2, 2016
Posted by

mysteriousways
at 1:09 PM
No comments:

Friday, October 30, 2015
By Ryan Leas @ryanleas
U2 are the kind of band that doesn't so much release albums as release events. In the context of their career, that means various things at various times. There's their sheer popularity, the result of which is that a U2 album can't really be minor even if the band tried to make it so: It would still be big news, and would still be written about everywhere. Over the years, "sheer popularity" might be translated into "sheer ubiquity." They still don't have a real contender for the mantel of the biggest band in the world, and it's hard to imagine a time when an artist like them — a band that plays rock music, the classic archetype — would ascend to such a level again. They might be the last one. And, on some level, they might know that. For much of their career, they've made their albums events, ranging from the performative statements in the '90s — when they were still very artistically vital — to the fact that they now take forever to release new music and usually feel the need to provide some kind of stunt or hook, resulting in things like last year's controversial Songs Of Innocence release. While that album received unfair amounts of hate, it was a telling example of how the band functions today: They know what they are, and they are trying to stay that way. I mean this as a fan, and in the least cynical way possible, but you can see their efforts to remain ubiquitous.
Whether it's simply getting older as a band or the fact that they're stuck inside this machine they've built, making music as an event is something that, inevitably, eventually leads to diminishing returns. Creatively speaking, aspiring to an album-as-event is, mostly, something admirable. The drive to make an album that has a real, tangible idea behind it, that feels like some important installment in a conversation with the culture at large, and being able to pull that off, is one factor that can separate the Great Artists from the very good ones. For a long time, U2 were capable of that. They released albums that captured the masses, but were still their own idiosyncratic vision of what was occurring in the world around them. They did that again and again.
Operating that way can make you a ruthless editor of your own work. A U2 album couldn't, or shouldn't, simply be a collection of 10 or 12 songs that hang together all right. U2 albums feel like they have to mean something more, because we know U2 are capable of that and because it's what we've been trained to expect from them. From any interview you come across with Bono, the Edge, Larry Mullen, Jr., or Adam Clayton, it's clear that this is a band that labors over their albums on a level that most artists simply can't afford to do anymore. (In hindsight, it's miraculous that they ever released Zooropa, which was originally planned as an EP. At least in recent years, U2 come off as too much of a complicated business mechanism to allow for such spontaneity.) They write and record a lot of songs that do not make it onto their albums, and these days, it's not like those songs are going to stick around for the five years it'll take for the next record. The music that makes it onto a record has to be, in the band's estimation, obviously the best stuff, but also the stuff that captures some inherently specific U2-ness.
Ultimately, this results in two things. In the past, it meant that U2 had a treasure trove of non-album material that was, first of all, the kind of unused music a lot of bands would kill to write on their best day, but also good enough to stand alongside many of U2's own classics, if they chose to let them. Similar to Springsteen — who, despite his prolific 21st century, was also a steadfast editor of his own work in his youth — the B-sides and rarities and songs without specific homes fill in the blanks of U2's career. They tell the story of how you get from The Joshua Tree to Achtung Baby in four years, with the personality overhaul that entailed. (I'm not counting Rattle And Hum as a separate chapter between the two; it's really more of a mutant epilogue to The Joshua Tree.) If the music wasn't worth it on its own merits, this could simply be demystifying. Thankfully, in U2's case, the side stories and tangents are often plenty worthwhile — they're there to enjoy and explore without having messed up the albums-as-entities.
There's some past tense used in the above paragraphs. The flipside of canny and thorough self-editing is paralysis, self-doubt. The U2 of the '00s is not the U2 of the late '80s or the '90s. You might not have loved everything they were up to in the past, either, but that U2 clearly knew how to steer their ship. What has unfortunately developed, though, is a series of albums that feel reactionary, in some way or another, to some aspect of the band's past. The band has developed a tendency to over-think, which itself yields ridiculously long periods of time between albums, so that this whole reactionary thing plays out as one drawn-out, exhausting fiasco. In a way, U2 is still so eager to be "U2″ after the fallout ofPop. Ever since All That You Can't Leave Behind, they have operated with a fixation on remaining the biggest band in the world while also remaining relevant, which might simply be impossible when you're closing in on four decades as a recording artist. It results in tentative returns to more experimental times (like No Line On The Horizon); it results in albums that sound focus-grouped to death (like Songs Of Innocence). Who knows what they left behind in the editing process in the last decade. Every now and then, you get the idea that it was something special. In the last decade, it often feels as if U2 are telling ustheir album is an event, instead of simply making it one. When the little counter-narrative songs trickle out from that sort of phase, they begin to feel more like missed chances than the illuminating detours behind their greatest work.
U2 might be a band in crisis, in terms of their identity. They might be too big to fail, but they aren't too big to stall out, to flirt with mediocrity. If you're the kind of fan who prefers U2 when they are willing to throw out their own rulebook, to rewrite their own story, it's been a frustrating 10 or 11 years. If you aren't a fan, U2 have made themselves a perpetual easy target for criticism, which … well, that's made it frustrating to be a fan, too. But there's so much more to this story than the last three albums. Currently, U2 is in the midst of an immense eight-night residency at Madison Square Garden. Clearly, they're still an artist of magnitude. But I wanted to remind myself of why that magnitude matters, to dig back and remember the highs that make them who they are. Specifically, it felt like it was time to dig into all those lost stories from between the events, to rediscover all the smaller glories that occurred before the events themselves stifled the process.
The methodology behind this list is that these were non-album U2 tracks, meaning that singles like "Sweetest Thing" and "Electrical Storm" were eligible alongside B-sides or unreleased material like "Mercy." Material from Passengers' Original Soundtracks 1 was eligible, however, seeing as that album is not a canonical U2 entry in the same way as everything released under their own name. So what follows are 31 songs — presented in rough chronological order — that represent the very best of U2's non-album work.
Released in May 1980, "11 O'Clock Tick Tock" was only the second single from a very young U2, coming in between their introductory EP U2 3 (sometimes simply called Three) and Boy. It has the same chilly, haunting atmosphere of the band's earliest material, when they were more directly influenced by post-punk. It was a mainstay in their live sets for years in the '80s, apparently sometimes being played twice in one show in the early days.
A non-album 1982 single released between October and War, "A Celebration" is a transitional song. U2 still look like they did around October (though now Bono has a pair of very red pants), but "A Celebration" showcases the band's growing sense of muscularity that would define War, the album that's still, in most ways, their most aggressive. That urgency had been signaled throughout October, but often didn't quite land. With "A Celebration," the band had a song that did sound truly urgent while also boasting a few melodies that were impossible to shake. It's better than anything off the record that preceded it, save "Gloria." Unfortunately, it seems the band has tried to essentially write "A Celebration" out of their history, leaving it off compilations over the years and abandoning it live; supposedly, they aren't fond of it. It lives on as a lost gem from U2's early days.
"Trash, Trampoline, And The Party Girl"
("A Celebration" Single, 1982)
Later referred to by the shortened title "Party Girl," "Trash, Trampoline, And The Party Girl" was the B-side to "A Celebration," but wound up having much more longevity. "Party Girl" was a fan favorite and live staple throughout the '80s, appearing on the 1983 live release,Under A Blood Red Sky. Even in recent years, the band has been known to bring it back on occasion. Impressive, considering it's an oddity of a U2 song that the band wrote last-minute in-studio, primarily improvising the final product we know today.
"Angels Too Tied To The Ground"
(War (Remastered) Deluxe Edition, 2008)
War
didn't yield as many lost deep cuts as many of U2's later records, but when the band reissued it as a deluxe edition in 2008 they included "Angels Too Tied To The Ground," a track presumably left unfinished in the '80s. After some re-recording in 2008, it sounds like Bono's vocal was a contemporary take laid over a quintessentially swelling Bono "whoa-oh-oh" that sounds like it's left over from the '80s. It's not a surprise that the track didn't make War, since it still kind of comes off as unfinished. Its jazzy lope and the flurrying piano figure that the chorus is built around are both unique for U2, making this an interesting listen, but one that might've been odd had it appeared on one of their records.
(Wide Awake In America EP, 1985)
Originally recorded for 1984's The Unforgettable Fire, "The Three Sunrises" originally saw release Stateside on the Wide Awake In America EP, which also featured live versions of "Bad" and "A Sort Of Homecoming," alongside another B-side, "Love Comes Tumbling." "The Three Sunrises" is one of U2's finest B-sides, a thing of simple and casual beauty unlike much of their other work in that era or since. It makes sense that the band felt it didn't fit on The Unforgettable Fire. That album, though obviously not without its anthemic moments, is one of U2's weirdest, most ethereal releases, full of wandering instrumental backdrops and searching melodies. "The Three Sunrises" shares some of that, but it begins, well, like a sunrise compared to The Unforgettable Fire's more twilit musings. It continues apace, chiming for three and a half minutes as Bono's voice peals open into an off-handedly massive U2 moment — the kind of chorus that would be the biggest moment on another band's album, but would be small stakes compared to where U2 were going.
(Wide Awake In America EP, 1985)
"Love Comes Tumbling" was the other Unforgettable Fire B-side featured on Wide Awake In America, but it's more related to the album it was excluded from than "The Three Sunrises." It's U2 in a restrained, moody place. This was a very different U2 than the one we came to know — the one that was experimenting with atmospherics significantly for the first time in their career. "Love Comes Tumbling" might not be as good as the peaks on The Unforgettable Fire, but it's a worthwhile entry from a young and restlessly exploratory band.
("I Still Haven't Found What I'm Looking For" Single, 1987)
It's hard to argue that any of The Joshua Tree's excellent B-sides were egregious exclusions. That album is essentially perfect, with an impeccable flow and arc over the course of its 11 songs. Where the other B-sides from this era were more meditative, "Spanish Eyes" is a special B-side in U2's canon because it's the kind of effortlessly catchy, emphatic, straightforward rock song they rarely did back then (and can't achieve when they attempt it now). Who knows where "Spanish Eyes" came along in the process of writing and recording The Joshua Tree, but for us, having heard it after the cinematic sweep of the album, it's the sound of a band at the height of their anthemic powers stepping it down and packing way too much power into a smaller package, making the song all the more impactful.
("I Still Haven't Found What I'm Looking For" Single, 1987)
It's easy to forget, sometimes, that The Joshua Tree actually ends in a rather fraught, dark place between "Exit" and "Mothers Of The Disappeared." "Deep In The Heart" — the companion to "Spanish Eyes" on the "I Still Haven't Found What I'm Looking For" single — at first comes off as too dark to have made it onto the album, though it would've fit well alongside "Running To Stand Still" or in that final run of songs. Aside from a brief moment of climactic bellowing, "Deep In The Heart" is also more proof that U2 did know, at times, how to let tension build and just sit, instead of letting it explode. The mid-tempo tumble of "Deep In The Heart" always feels as if it's supposed to unravel; it simmers instead.
("With Or Without You" Single, 1987)
By the time The Joshua Tree came out, it had been three years since The Unforgettable Fire. So that was it; here was this fully formed, new idea of what U2 was, with some of the best songs of their career. "Walk To The Water" is one of those curiosities that fills in the blanks a little bit. Between its spoken-word first half and its meditatively patient pace, it has the same kind of searching that was present throughout The Unforgettable Fire, now upgraded with the power of Joshua Tree-era U2 — whether that's Larry Mullen, Jr.'s drum pattern or Bono's increasingly super-sized voice, finding some of its appealingly raspier corners here.
"Luminous Times (Hold On To Love)"
("With Or Without You" Single, 1987)
Here's where the riches of the sessions for The Joshua Tree become abundantly clear. "Luminous Times (Hold On To Love)" — a B-side of "With Or Without You" alongside "Walk To The Water" — has everything that any of the best Joshua Tree tracks have. This is a B-side, likely unknown to plenty of fans, that's a bigger song than most bands can muster in their best moments. U2 was just tossing little mini-epics off at this point, making it look like it was nothing. You could combine these B-sides with the stuff worth hearing off Rattle And Hum, and you'd have an album almost as good as The Joshua Tree itself.
"A Room At The Heartbreak Hotel"
("Angel Of Harlem" Single, 1988)
It's hard to say Rattle And Hum is misled as an album, per se; the whole enterprise was somewhat misled, but it's also not really a full-fledged album. There's some new stuff, some live stuff, some covers, all compiled into one of U2's least essential releases despite the gems hidden within. Given all that, it's sort of absurd to discover that there were songs left off of that bloated, uneven release that are way more worthwhile than a large chunk of what did make it. U2 eventually pushed the whole Americana thing too far, but "A Room At The Heartbreak Hotel" is a moment where it's totally convincing and evocative. It might've still been advisable to drop the whole choir bit, but what the band themselves are doing here is some of the best stuff they ever did in this vein. It's one of those late-'80s U2 songs that's turned all the way up all the time, while somehow also continuously building. The way the chorus bleeds right in along the words "For primitive love" — driven purely by how the Edge's guitar, the Edge's voice, and Bono's voice wrap together while Clayton and Mullen maintain the verse's pulse — is a great, subtle touch.
"Lady With The Spinning Head (UV1 Version)"
Achtung Baby
is the other essentially perfect U2 album, the one I'd argue is

more perfect

than The Joshua Tree. Its best leftovers wound up rearranged and finished for Zooropa; a lot of the B-sides that did see release with Achtung Baby's singles were oddly by-the-numbers classic-rock covers that didn't match up with the rest of what they were doing in the early '90s. In the midst of that, the only song I could envision being on Achtung Babyand making it even better would be "Lady With The Spinning Head (UV1 Version)." Thing is, it couldn't be — because it already is, three times over. The band labored over this song, but eventually harvested it for parts that wound up birthing "Zoo Station," "The Fly," and "Ultraviolet (Light My Way)." Those are three of the best songs the band has ever released. (Also, makes sense this is such a ridiculously good B-side, if it had the bones of those three songs in it.) You can hear elements of each here, but "Lady With The Spinning Head" is still its own awesome song; not your usual alternate or early version of superior songs yet to be written.
("Even Better Than The Real Thing" Single, 1992)
"Salome" is one of those great B-sides that definitely had no business being on the record, and luckily the band realized that. Boasting one of the band's more addictive grooves, and Bono practicing his new slinky, seductive '90s vocal style while ceding the chorus almost entirely to his bandmates, "Salome" is an outlier in U2's catalog. It doesn't have the same heaviness of the stuff that made Achtung Baby, the same thematic weight and resonance. But while it would've disrupted the album's flow, it is another one of the worthwhile B-sides from the era, a earworm-y vision of what other directions could've been pursued.
"Where Did It All Go Wrong?"
("Even Better Than The Real Thing" 12″ Maxi Single, 1992)
Everything about "Salome" is twice as true for "Where Did It All Go Wrong?" In a way, this doesn't even sound like U2. It has a different kind of pop catchiness than they usually practice. It's hard to wrap your head around the fact that this came out of the same sessions as the other Achtung Baby material — especially with that guitar break that happens at about 1:45 — but it's another small piece of evidence of how many twists and turns there were in the birth of the new U2 that arrived with that album. There are traces of some kind of classic rock in here, same as in their decision to cover "Paint It Black" and "Fortunate Son" for other Achtung B-sides. But, like "Salome," this is a fun, infectious song birthed from strained sessions that otherwise produced some of U2's most dramatic music.
"Hold Me, Thrill Me, Kiss Me, Kill Me"
(Batman Forever: Original Music From The Motion Picture, 1995)
"Hold Me, Thrill Me, Kiss Me, Kill Me" was a U2 single attached to a Batman movie, it was played frequently throughout the latter half of the '90s, and yet it's still a little easy to lose it in the shuffle of their career sometimes. That can happen when you have as many iconic songs as these guys. Though it came out for Batman Forever, the song has its roots inZooropa — which, if you ask me, is

always auspicious

. It has a lot of competition in both capacities, but "Hold Me, Thrill Me, Kiss Me, Kill Me" is one of U2's best '90s songs, and also one of their densest. It just feels like there's a lot crammed into this one, another one of those U2 songs that never lets up but also somehow manages to get increasingly intense as it goes along. If only Bono and the Edge had come out of that Spider-Man on Broadway debacle with a song as good as this.
(Passengers' Original Soundtracks 1, 1995)
Passengers is one of the weirder, more forgotten chapters in U2's existence — the one-album collaboration with their frequent producer Brian Eno, just under a different name. Eno exerted a lot of influence here, and a lot of Original Soundtracks 1 is more ambient in nature, as well as sounding more dated. "Slug" and these next two songs are instances in which U2 pushed back more, and found a stunning middle ground between their normal sound and Eno's more abstract tendencies. I've long since given up trying to wish into existence the U2 I can hear in this song, but it's still tempting to imagine a 1995 album between Zooropa and Pop that sounded like this — a strange, nocturnal album for cities. Inspired by the time they spent in Tokyo, the gradually rising and falling synth bed that comprises most of the instrumental in "Slug" is apparently intended to represent a city's lights turning on at dusk. There's little else the band has been involved in that remotely sounds like this, making it a singular, hauntingly beautiful entry in U2's canon.
(Passengers' Original Soundtracks 1, 1995; "Miss Sarajevo" single, 1995)
"Miss Sarajevo" is, for a lot of people, the calling card for Passengers, even if they don't even realize it came from Passengers. It was the album's sole single, the one the band has played throughout the years, the one with, uh, Pavarotti on it. There's actually nothing about "Miss Sarajevo" that has much to do with the rest of Original Soundtracks 1. Musically, it sits perfectly alongside Zooropa's "Stay (Faraway, So Close!)." It's just as nocturnal as the other highlights by Passengers, but it sounds more human. You can picture Bono singing this one in a smoke-filled restaurant across the world, in the early hours of the morning, but not underneath the bright lights of a future city.
(Passengers' Original Soundtracks 1, 1995)
When you're starting to dig into U2's career beyond the obvious stuff, beyond the ubiquitous singles and classic albums, there is a lot of great music that rivals the more recognizable material. "Your Blue Room" goes beyond being an essential deep cut, though. This is an essential U2 song, period. Even with Bono once remarking that it was one of his favorite songs of theirs and with the band playing it live for the first time the last time they toured, "Your Blue Room" maintains a very small footprint in a catalog that has "Where The Streets Have No Name" and "Beautiful Day" and "One" casting shadows. But Bono's right: This is one of the best songs U2 ever wrote. After all these years, I'm still trying to put my finger on what exactly does it. The song is fairly straightforward, built on a drumbeat and organ pattern that largely plug along throughout; Bono alternates between his smoky '90s lower register and his falsetto, as he had elsewhere. There's just something about how it all comes together here, making "Your Blue Room" one of those songs that feels like it can be anything you need it to be in that moment. You could take this as one of the darkest, saddest U2 songs musically. You could take it as peaceful, prayer-like. You could take it as a relatively normal pop song; it's not like it's avant-garde or anything. But there's something they captured here, and in so few other places, that makes "Your Blue Room" something more. It sounds like something unreachable and foreign and futuristic as much as it sounds like one of the most personal, naked songs U2 ever released. If you missed Passengers in the '90s, "Your Blue Room" is the most stunning hidden find in U2's history. A lot of U2's greatest songs have the kind of power to show you a whole world in a few minutes. The beauty of "Your Blue Room" is it suggests innumerable, nameless faraway places in the same span of time.
("Discotheque" Single, 1997)
Well past the point in their career where they'd accepted that spectacle was a part of the band's DNA, U2 played a Kmart in Manhattan in February, 1997, simply in order to announce their upcoming PopMart tour. They played one song: "Discotheque" B-side "Holy Joe." A New York Times

article

written then said of "Holy Joe" that the song "sounded like U2 imitating Oasis imitating the British Invasion bands of the '60s." Which, hey, that sounds all right to me. There might be some Britpop influence creeping into the sounds here, but even with a more guitar-centric arrangement, "Holy Joe" feels of a piece with the sonic territory U2 had carved out for Zooropa and the places they'd soon go on Pop. It's sardonic, but it's also loaded with melodies that hold a lot of frayed emotion. Like "Hold Me, Thrill Me, Kiss Me, Kill Me," "Holy Joe" is a non-album track that, within its own running time, sums up everything about why '90s U2 was so dense, interesting, and rewarding in the long term. It's emotion and artifice bundled together; U2 actually engaging with shifts in culture in a meaningful way. There weren't too many more years after this where that was the case.
("Where The Streets Have No Name" Single, 1987; "Sweetest Thing" Single, 1998)
"Sweetest Thing" has one of the weirder backstories of the songs on this list. There's a version that exists from 1987, as a B-side to "Where The Streets Have No Name." Legend has it that it's an apology song — written by Bono, for his wife Ali, because he'd been in the studio on her birthday, working on The Joshua Tree. Chances are, most people are more aware of the 1998 version, when the band re-recorded it and released it as a single to promote The Best Of 1980-1990. There are a handful of famous U2 songs that almost come off as covers at first. (Other candidates include "Desire" and "Angel Of Harlem.") The sweet, simple pop of "Sweetest Thing" doesn't sound quite like anything else in their catalog, with one of those melodies you could swear you'd known since childhood.
("Stuck In A Moment You Can't Get Out Of" Single, 2001)
Though it was from the Pop era, "Big Girls Are Best" wasn't recorded until after the PopMart tour. It wound up a B-side to "Stuck In A Moment You Can't Get Out Of," and then on a Target-exclusive EP called 7, along with a bunch of other outtakes from All That You Can't Leave Behind. Musically, it has a lot more to do with Pop than its successor, and it definitely feels like the odd child out amongst the gleaming pop U2 favored for All That You Can't Leave Behind. Still, it's another catchy lost U2 track with an addictive groove, and one that offers a glimpse of the weird transitional phase between Pop and All That You Can't Leave Behind.
("Beautiful Day" Single, 2001)
Similar to the leftovers from The Joshua Tree, it appears that there was enough material from the All That You Can't Leave Behind days — whether released or perhaps left unfinished and unreleased — that there could've been a whole companion record of almost equal merit. "Summer Rain" is a streamlined, comparatively stripped-back pop song that they had the hooks to back up. It is far from the most crucial entry on this list, but it's a shimmery pop song that hits the same pleasure centers as its companion B-sides from the era, and in the same nonchalant way. This is U2 writing solid, effective songs without feeling the need to hit you over the head with the fact that you're hearing a U2 song.
Like "Sweetest Thing" four years before it, "Electrical Storm" was a single released to promote a new U2 compilation — this time, it was The Best Of 1990-2000. (The other new song on the collection was the song they'd contributed to Martin Scorsese's Gangs Of New York, "The Hands That Built America.") With the combination of light electronic touches and some prime Bono chorus work, it certainly sounds like what U2 were up to otherwise in the All That You Can't Leave Behind era. But elements of it — like how Bono favors a distantly yearning approach to the chorus and pouring the bulk of his vocal intensity into a few select moments; the less-than-rapturous mood of the thing — make it feel as if it could sit comfortably alongside a Pop ballad like "Staring At The Sun." There's been some wrongfully maligned U2 music in recent times, but the fact remains that this is one of the last times U2 did what we expected in our heads from them, and did it without feeling forced. There's a lot of very, very good stuff from later in the decade, but this is among the last great U2 songs.
(The Complete U2 Digital Box Set, 2004)
"Levitate" has the same ethos of All That You Can't Leave Behind, the album for which it was recorded, but musically it makes complete sense they left this one off the LP. While it has the same turn-of-this-century optimism — like some bright vision of the future before the '00s began with 9/11 and ended with the financial crisis — its pulse makes it so that it wouldn't quite fit on any of U2's existing albums. It's jubilant throughout, but never peals out in the way that most U2 anthems have since 2000. There's something appealing to "Levitate" because of that. It's a lower-key (for them, anyway) celebration, content to glide at whatever elevation it's currently at instead of needing to shoot for the stratosphere. Also, it makes me feel like U2 were listening to a Madonna's "Ray Of Light" on repeat when they wrote this one, for some reason.
(The Complete U2 Digital Box Set, 2004)
Like "Levitate," "Love You Like Mad" is an All That You Can't Leave Behind outtake that is doing what we've come to easily classify as "U2 things" without being overwhelmingly U2 about it. Melodically and structurally, there are traces of Pop. The way the verses are relatively measured from an instrumental and pacing standpoint and the way that leads into a chorus with a big siren Edge guitar part alongside one of Bono's lower-gear blooms of a melody are reminiscent of tracks like "Gone" or "Last Night On Earth" or "Do You Feel Loved?" It's been somewhat mollified and brightened, though, brought into the world of All That You Can't Leave Behind. There's a certain ease to the whole thing. After the laboriousness of the hooks on Songs Of Innocence, it makes you yearn for the days where U2 were comfortable enough to simply toss off a pocket-sized anthem like this one.
Speaking of U2 doing U2 things: If you know someone who's aware of "Mercy," chances are they'll describe it as one of the most unabashedly U2 songs the band's ever recorded. The story goes that it was on How To Dismantle An Atomic Bomb and that the band removed it at the last minute. It boggles the mind. If it's a matter of "Mercy" not fitting on the album, well, there's some logic there: "Mercy" doesn't fit on How To Dismantle An Atomic Bombbecause most of How To Dismantle An Atomic Bomb sucks. And if you're susceptible to the particular version of the band that's at play on "Mercy," then this song is a lost, latter-day classic. The band seemed to have eventually realized they had squandered a treasure, and debuted it live on the U2 360° tour, later releasing a live performance of "Mercy" on theWide Awake In Europe EP in late 2010. Still, even then, they'd meddled with it, shortening it to a more traditional U2 running time. Hopefully the original, nearly seven minutes of U2 overflowing as only they know how to do, will someday see official release on some kind of compilation.
(How To Dismantle An Atomic Bomb Bonus Track, 2004)
Though it's the song bearing the actual phrase "to dismantle an atomic bomb," "Fast Cars" was relegated to bonus-track status in a few countries. Its omission from the album proper is a little more understandable than that of "Mercy"; musically, it doesn't quite slot in amongst almost any of U2's music otherwise. That being said, would anyone have really complained if this had been the album closer instead of "Yahweh," one of the band's lamest songs? Like "Mercy," "Fast Cars" raises questions about what kind of other sounds, rhythms, hell, anything that U2 were playing with during the recording of How To Dismantle An Atomic Bomb. Whatever it was, songs like these remain more memorable and endearing the ultra-bland stuff that wound up on the album.
(Leonard Cohen: I'm Your Man Soundtrack, 2006)
Back in 2005, just as Leonard Cohen was starting to come back into the public eye after living at a Buddhist monastery, he played "Tower Of Song" with U2, a performance shot for Liam Lunson's 2006 film Leonard Cohen: I'm Your Man. Cohen was primed for the late career return we've now enjoyed: his voice had acquired this totally ancient power, his gaze seemed to say "I've seen other worlds." And U2, for their part, mostly take a backseat, providing a solid arrangement for one of Cohen's finest songs. It's reminiscent of what they did with the woefully underrated Zooropa closer "

The Wanderer

," which featured Johnny Cash. They show up, do their thing, but also sit back and let a legend do his work.
"I'll Go Crazy If I Don't Go Crazy Tonight (Fish Out Of Water Mix)"
("I'll Go Crazy If I Don't Go Crazy Tonight" Single, 2009)
In hindsight, U2 might have set themselves up for a worse reception than No Line On The Horizon deserved by releasing "Get On Your Boots" as the lead single. It's one of their worst songs, the dud that cratered the middle of the album. The other major offender from the middle of No Line On The Horizon, "I'll Go Crazy If I Don't Go Crazy Tonight," came off the same as "Get On Your Boots": a crass attempt to repeat the glories of similar, better hits of the past, which transmitted a lack of confidence on U2's part in the album they'd been trying to make. (The trilogy of those two songs and "Stand Up Comedy" complete the middle section that totally derails the album.) This remix wisely does away with almost all of the remains of "I'll Go Crazy," totally jettisoning the original song's perfunctory been-there-before chorus, and totally rearranging the rise and fall of the track on a series of wildly addicting synth parts. It has the same nocturnal vibes as the best of U2's early- and mid-'90s work, and it's easy to wonder what the Bono of that era might've done with a track like this. (One thing the remix can't totally do away with is a lot of the clunkers that Bono sings in the song.) A song that sounds like this would have no business being on No Line. This is not at all akin to stock U2 in the 21st century, but given how safe they wound up playing it on Songs Of Innocence, the potency of hearing Bono's voice over such an uncharacteristic backing track has only increased. I realize this is an "It's not you, it's me," kind of problem, but even so: I'm curious about what the last six years looks like when this is simply a U2 song, not a remix of something much more expected.
"Get On Your Boots (Fish Out Of Water Mix)"
(Artificial Horizon Fan Club CD, 2010)
"Get On Your Boots" seems like it should be a totally unsalvageable mess of a song. Somehow, some excellent remixes of the song exist. Of course, the Fish Out Of Water Mix has very little to do with the album version, with pretty much all of U2's original music swapped out for dense layers of synths seemingly crafted for cruising through a post-apocalyptic cityscape. It tempts the imagination the way U2 always want to do, but not in the way they'd want to here, most likely: It makes me wonder what it would sound like if U2 made a whole album with this aesthetic. (Also worth checking out:

Justice's remix of the same song

.)
(U2 360° At The Rose Bowl DVD Super Deluxe Edition, 2010)
"Soon," which has also been known as "Kingdom" and "Kingdom Of Your Love," is a 2-minute outtake from No Line On The Horizon. It served as their walk-on music during the U2 360° tour, and later was officially released as a special 7″ if you shelled out the money for the Super Deluxe Edition of their U2 360° At The Rose Bowl DVD. No Line On The Horizon was supposedly going to be U2's big "experimental" turn after the straight-up rock of Atomic Bomb. It was going to be the record they went and dreamt up in Morocco. The reality, unfortunately, was more restrained: There was some great stuff on there, and you could hear glimmers of a strange and beautiful late-period U2 album, but the final product felt non-committal. So when Bono started talking about a more meditative sequel Songs Of Ascent, it was easy to get your hopes up that it would, essentially, sound like "Soon." Admittedly, "Soon" does sort of feel unfinished or like a segue by U2 standards, but it gets a lot done in its short running time. It rides in on an otherworldly refrain for almost a minute before spilling into another, chant-like refrain. The second is more direct and euphoric, but it still doesn't sound like U2, necessarily. You can feel Brian Eno's influence here, pushing U2 to do something unlike them. Which, you still want U2 to be U2, but it isn't hard to hear this alongside something like "

FEZ – Being Born

" and wonder what could've been.
Posted by

mysteriousways
at 9:56 PM
No comments:

Friday, May 1, 2015
Thirty years after becoming the biggest band in the world, Bono and co still polarise opinion. Here, taking a break in the Côte d'Azur, they discuss the Ireland of their youth, their Apple album giveaway – and why Bono works with people he would have once loathed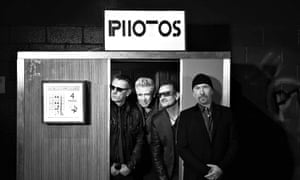 Larry Mullen, Adam Clayton, Bono and the Edge: 'The interaction is the same as it always was.'
A warm afternoon in the Côte d'Azur village of Villefranche-sur-Mer. Yachts bob lazily in the bay, diners dawdle al fresco, and Bono, nursing a hangover behind mirrored Ray-Bans, is playing tour guide. He wants to show me the Chapelle de Saint Pierre des Pecheurs, a tiny 12th-century chapel with 1950s murals by Jean Cocteau.
Inside the chapel, he encounters a group of grey-haired American choristers. He spontaneously invites them to sing Amazing Grace with him, to their initial bemusement. Afterwards, one man asks, "Are you a well-known musician? Should we know who you are?"
"Er," Bono says hesitantly. "I'm Bono."
The man laughs and says that he's heard of him. A woman steps forward to tell Bono how much she enjoyed his musical about the shipyards. Not, as far as he knows, having written one, he looks puzzled. She explains further. "Oh," he says, the penny dropping, "it's Sting you're thinking of."
Bono doesn't seem bothered. I suspect he is unembarrassable and, anyway, one reason he spends four months a year in the vicinity is because "the particular genius of the French people is to ignore you. So you actually have a laugh."
I've met Bono when he's been in the middle of a tour and he moved at a different tempo then, always on the clock, retaining some of the overwhelming, centripetal presence of a frontman even off stage. Here, he's relaxed, playful, sprawling. Installed in a virtually empty quayside restaurant, he extends lunch over three hours, via an "emergency beer", several glasses of wine, a cheese plate and a solitary cigarette. Occasionally, a fan will politely approach him for a selfie. "Can you make me look tall, skinny and intelligent?" he asks one.
Bono is one of precious few celebrities (think George Clooney, Jack Nicholson, Jay Z) who visibly enjoys fame. We have come to regard fame as a dangerous, unnatural condition that exacts a terrible price. Bands lose their moorings and drift apart. Stars feel besieged and armour-plate themselves. But I think Bono actually finds fame liberating and he's confident enough (his religious faith helps) to remain excitable and exposed. One reason many people find him annoying is that he doesn't suffer for his success.
Perhaps those people would dislike Bono in person, too, but I'm not sure. He's a tireless raconteur with a big, throaty laugh, fond of anecdotes, jokes, digressions, impressions (his Paul McCartney is spot-on) and catchy, if sometimes glib, aphorisms. He has the thirsty, impatient intellect of an autodidact. He seems to find everything, whether it's the birth of cubism, the reforms of Pope Francis or maternity leave in Germany, equally stimulating. "I have many lives," he says. It's not surprising when he asks his assistant to pick his main course for him. He's not good at narrowing his options.
The first night Bono spent on the Côte d'Azur, in 1986, he wrote the lyrics to U2's colossal hit With Or Without You. Since the 90s, it's been the band's playground. "Down here we just fell in love with music again," he says, dispatching his fish and vegetables in swift bites. "It was something to do with living rather than working. I know that sounds decadent."
This is where he has holidayed with Steve Jobs, gone drinking with a former minister in Salvador Allende's Chilean government and slept on the beach with Michael Hutchence – before "the days of the phone camera", he says sadly. He used to enjoy bringing home colourful local characters, not always to the unalloyed delight of his wife, Ali. One night it was a magician. "It's four o'clock in the morning and I'm saying, 'Wait till you see what this guy can do!'" he remembers. "And she said [forbiddingly]: 'Can he make you disappear?'"
There are, it must be said, many people who would like to see that. Bono polarises opinion like no other rock star, perhaps no other celebrity. U2 remain popular enough that their 2009-11 360° tour was the biggest grossing in history, yet their critics are noisier and more venomous than ever. Bono says he got used to it 30 years ago.
"We were already annoying people, it was already divisive, it was already, 'I can't stand them, I want to kill them,'" he says, waving his fork. "It's the job of art to be divisive."
Still, the last month or so has been a whirlwind. Just a week after U2 finished their 13th album,
Songs of Innocence
,
Apple delivered it gratis to the clouds of half a billion iTunes accounts. It appealed to U2 as an audacious move in the spirit of Bono's star-making
walk into the crowd
at Live Aid, or the recklessly expensive 1992 Zoo TV tour. Their gambles tend to pay off. This somewhat intrusive giveaway caused such uproar on social media that Apple released a tool enabling unhappy customers to delete the album. But Twitter is not the world. At the last count the album has been accessed by 81 million people and downloaded in full by 26 million.
Their different responses to the furore are revealing. Bono says emphatically: "We got paid. And this is about a company [Apple] that's fighting for musicians to be paid." And he is bullish about the quality of the songwriting. "These songs, you could stamp on their head and kick them to the ground and they're still going to stay there."
Monk-like guitarist the Edge is typically even-handed. "I absolutely had my doubts about it before we did it, and after, but it was the right thing to do," he says. "It was an opportunity that will only ever come around once for anybody. I don't think anyone would want to do it again."
Forthright drummer Larry Mullen "couldn't give a shite" and louche bass player Adam Clayton wonders what all the fuss is about. "The plan wasn't to be controversial. In today's world there is so much chatter, so in order to get through the chatter I'm afraid we are destined to make a very loud noise ourselves."
The scale of the release felt at odds with what is the most lyrically intimate set of songs of U2's career, candidly exploring the 54-year-old's troubled youth as plain Paul Hewson in 1970s Dublin. I ask Bono if the stunt might have missold the album? "No, no, no, that's the duality!" he shouts. "Intimacies through large public address systems is what we do. That's what rock'n'roll is! This is not a poetry reading. I didn't abandon ship on the rest of my life for that. I abandoned ship because I heard Joey Ramone singing about his neighbourhood at deafening volume. That's the thing."
U2 became the biggest band in the world in the 80s, when that status was both measurable and desirable. They regarded hugeness as something to aspire to, master and, eventually, enjoy. But bands don't talk like that any more. Arcade Fire or the Black Keys are suspicious of success while the Rolling Stones or AC/DC release albums chiefly as an excuse to tour the hits. Only U2 crave both size and relevance. They are proudly, perhaps unfashionably, alone.
The question that Songs of Innocence attempts to answer is why Bono wanted all of this. It makes clear how necessary U2 was to a teenager blasted sideways by his mother Iris's fatal cerebral aneurysm when he was just 14.
"If somebody were to do an analysis of the singers and writers in rock'n'roll, you'd be so shocked by how many lost their mother," he says. "You're just at the age where you're discovering girls and the woman who brought you into the world exits stage left in a very dramatic way. But what's more interesting is the rage that follows grief. Where do you put it? Music arrives in my life as an emancipation and punk rock gives me a place to howl. And it's alchemy. It's literally turning your shit into gold records."
Bono has maintained the same bandmates since then, most of the same friends and crew members and, until last year, the same manager, Paul McGuinness. U2 even shared houses during the album sessions in London and Malibu. Bono loves the romance of friends in a band so much that he's still upset that the Beatles and the Clash split up. "He's a guy that values friendship probably above anything else," says Edge.
To many outsiders, for better or worse, U2 is the Bono show but each member is a distinctly strong character: a leg without which the table would collapse. Edge, who meets me for coffee in a neighbouring village the next day, is the band's studio perfectionist, music geek and diplomat. He is calm and precise, with the soothing tones of a late-night radio DJ, but he's nostalgic for the rowdy battles of punk.
"People were either turned on by it or completely repulsed," he says fondly. "It was something that defined you. It makes me start to twitch when music is smooth, like a beautiful soundtrack to your life. Music has become wallpaper, a commodity, something going on in the background. That's why I love Kanye West because he's like, Take this! I'm with him. Let's not make it comfortable."
Bono says that Adam Clayton, a supermodel-dating hellraiser in the 90s but teetotal now, has matured into "a wise owl". Sipping sparkling water, Clayton is wry, unflappable, more aristocratic than his middle-class origins would suggest, relentlessly self-effacing about his bass-playing, and still amazed by his good fortune.
"I consider myself a very lucky person," he says. "The overriding sense is, how the hell did I get from there to here? Because you would not in a million years have imagined that a complete waster and fantasist from a dodgy Irish public school could end up in a comprehensive in a Dublin suburb and meet three extraordinary characters that would go on to become world-class musicians, and be a part of it."
He's not sure why U2's friendship has proved unusually rock-solid but he's grateful. "The interaction is kind of the same as it always was," he says. "The job of being in U2 is hard enough when you really like each other. I can't imagine what it would be like if we had fights."
Larry Mullen, a drummer by temperament as well as trade, is the band's anchor, its voice of caution, its youngest member and bluntest talker. He neither needs nor wants attention so it's a surprise to see him embracing his 18-year-old son Elvis on the cover of Songs of Innocence. Predictably, it was Bono's idea. "It doesn't sit terribly comfortably but it's a good image," says Mullen, sitting at a table by the bay.
When I ask him if the album prompted him to reflect on his own youth, he says, "No. I don't need to look back to go forward." But he admits, reluctantly, that losing his own mother in his teens gave him an immediate kinship with Bono.
"Everything I thought that would be was no longer," he says. "Everything was broken. Like home, that was just gone, everything was gone. So my thing was to find somewhere else to go. I needed another family and the band became that for me, and it was a refuge. I was sitting behind a drumkit. I didn't have to explain myself. And that's been very convenient because it's not easy stuff to talk about, and I admire Bono for doing it. I find it… kind of… you know, it's a painful period of my life and it still feels the same way. I wish I could just expel it. I don't have the resources or the willpower to do that yet."
Later, he says, "The reason that we do this is because we are incomplete, and being in the band allows people who are slightly broken to feel fixed for that period of time."
When I ask Mullen if he remembers the teenage Bono as the cannonball of fury and grief portrayed in the new song Volcano, the drummer instantly replies: "That's the guy I know now."
Despite the staggering success of the 360° tour, the past few years have found U2 looking unusually vulnerable. The tour's final leg and U2's Glastonbury debut were postponed by a year when Bono incurred a serious back injury. Their last album, 2009's
No Line on the Horizon
, sold disappointingly and lacked hit singles.
"It was conceived as a more fun, off-the-cuff type of work but we realised towards the end that that doesn't exist for us," Edge says ruefully. "There's no small album from us."
"It wasn't fun," Mullen says of the album he refers to as No Craic on the Horizon. "It was pretty fucking miserable. It turns out that we're not as good as we thought we were and things got in the way."
When Glastonbury finally came around in 2011, it rained solidly throughout U2's set and Bono's usual rapport with a crowd eluded him. I ask Mullen if it's true that he said "Never again" after coming off stage. No, he corrects me. "I said: I'll never, ever do that again. I will never do a gig where you have that distance between yourself and the audience."
"Do I think it could have been better?" says Clayton. "Yeah, it could have been better, but I'm very glad we did it."
Then there was Bono and Edge's songbook for Spider-Man: Turn Off the Dark, the jinxed Broadway musical that closed early with a reported loss of $60m. "We had some wonderful times and I don't regret it but it really did become a bit of a nightmare," says Edge. "We had to get involved with aspects of the show that I didn't feel comfortable with. I would not want to be involved to that degree in something like that again. It's just too difficult."
In 2011, U2 were working on three different albums simultaneously: the never-completed Songs of Ascent; a more electronic record with Lady Gaga producer RedOne; and another with Black Keys and Gnarls Barkley producer Danger Mouse. They decided, says Clayton, that they had "run out of road" with their semi-regular collaborators Brian Eno and Daniel Lanois and needed another reboot like 1991's Achtung Baby or 2000's All That You Can't Leave Behind. "We needed to reinvent and revitalise."
"The easiest thing would be a greatest hits tour," says Mullen. "We could do that for years. I just wasn't prepared to go down in flames on the last record. This is not the way to finish your career. Go out with something that you really believe in. There were questions like: can we do this? Is it possible for us?"
The Danger Mouse sessions (finished with extra producers including Paul Epworth) became Songs of Innocence when Jimmy Iovine, the former record mogul who is currently working for Apple, told Bono: "The person you need to be to make this album, he's a long way from where you live."
"He threw down the gauntlet," says Bono. "Are you ready to go there? Are you ready to ask yourself the hard questions? And I asked myself the hard questions about why I wanted to be in the band in the first place. You know, I didn't go to a shrink. I should. I went there. And there's some surprising outcomes."
The album describes musical epiphanies, personal tragedies, childhood friendships and aspects of life in 70s Ireland. In U2's early days, Bono avoided singing about both the Catholic church and the Troubles. "I think to get anywhere there was a large element of fantasy, so the last thing we wanted to do was dwell on the tough reality of our situation," says Edge.
Now, however, Sleep Like a Baby Tonight is a furiously sarcastic lullaby to a paedophile priest, while Raised By Wolves describes a UVF triple car bombing in Dublin in 1974, the deadliest terrorist attack in Irish history. One of Bono's best friends witnessed the devastation. The singer wonders if this is one reason why he's drawn to protest songs.
"Why do I write songs about political violence?" he asks. "Where is that coming from? And I think that's why. It was very disturbing to realise that my teenage life was largely dominated by memories of violence and that my worldview was shaped by that. It might mean some sort of psychological flaw in me, but I feel most comfortable in the middle of the biggest, noisiest, most chaotic, howling argument."
As we talk, he formulates a new theory about the album. (He likes new theories.) It's really about bullies, he says, whether priests, terrorists, cruel teachers, street-corner bootboys or abusive patriarchs. "I remember those bullies," he says darkly. "The dads brutalising their kids, the husband brutalising the wife. I can't stand bullies. I can't stand them online, I can't stand them in front of me. Defining yourself by degrading someone else."
He gets angry about online trolls, not for his own sake but because of the damage they do to people without the insulation of success. "The internet, it's like mankind [has just] discovered fire," he says. "What are we going to do with this? It's very exciting, it's very worrying. You can say some mad shit out there."
One of Bono's more controversial decisions has been to fraternise with unpopular politicians, most notoriously George W Bush, in order to achieve goals he cares about such as debt relief and HIV/Aids treatment. Critics claim he is an apologist for neoliberalism, cosying up to the 1% (including Bill Gates and economist Jeffrey Sachs) in order to tackle problems caused by the 1%. He calls himself "a natural social democrat" but he is also a pragmatist and an optimist who believes people can be persuaded to do the right thing. He says he often ends up liking powerful people he previously regarded as "Lucifer".
Come on, I say. This can't be the only story. Surely he's met some people in business or politics who were every bit as noxious as he'd feared.
"Yeah, there's a few people where I've wanted to take a shower after shaking their hands," he concedes. "Even recently. But I don't believe in individuals in power or personality cults, including myself. I believe in social movements and their power to change things."
Recently, he's dialled down the high-profile advocacy to concentrate on behind-the-scenes activism, like fighting for legislation to promote transparency and combat corruption in the developing world. He admires
Matt Damon's campaigning
("he's the best at it because he uses humour as a weapon") but says it's not appropriate for him right now.
"I went from front of house to the back room," he says. "I just thought, y'know, I can take a hint. I do not want to devalue the issues that I'm campaigning for. I thought I could use this absurdity, celebrity, and I managed to turn it into currency and go to work with it, but then at some point it became difficult to be in a band and bring your baggage to this issue. So I've tried to keep my head down and wait for the right moment to put it up."
I raise this with Mullen, who has previously seemed uneasy with Bono's extracurricular tub-thumping. "He doesn't give a damn what people think if he can achieve what he wants to achieve, and that's a very brave thing to do," he says. "Most people wouldn't be able to withstand the vitriol that goes with that. And we've kind of accepted that's why he's the singer in your band – that's why a lot of people come to see you and it's why a lot of people don't like you. So there's a bit of both but I think, overall, it's a positive tailwind."
"I think what pisses off the community in general is that we keep turning up in places that we're not supposed to turn up in," Clayton says with amusement. "I understand that."
Of course, the biggest blow to Bono's activist reputation has been U2's collective
decision in 2006
to transfer U2 Ltd, which handles their publishing royalties (not the bulk of their income but a significant chunk), from Ireland to the Netherlands to reduce their tax bill. Their Glastonbury set attracted a small lobby of banner-waving protesters. Edge is painstakingly even-handed about it. "Was it totally fair? Probably not. The perception is a gross distortion. We do pay a lot of tax. But if I was them I probably would have done the same, so it goes with the territory."
Like the protesters, I think the arrangement sits badly with Bono's development work and we go back and forth for a while. It isn't a clandestine offshore tax haven, Bono insists. "All of our stuff is out in the open. How did people find out about it? Because it's published. The sneakiness is when you don't even know what's going on." Eventually, we agree to disagree, and the conversation moves on to Ireland's corporation-friendly tax laws, currently the subject of an EU investigation.
"Look, Ireland is not going to back down on this," he says. "We are a tiny little country, we don't have scale, and our version of scale is to be innovative and to be clever, and tax competitiveness has brought our country the only prosperity we've known. That's how we got these [tech] companies here. Little countries, we don't have natural resources, we have to be able to attract people. We've been through the 50s and the 60s, and mass haemorrhaging of our population all over the world. There are more hospitals and firemen and teachers because of [Ireland's tax] policy."
One of Bono's current obsessions is using commerce towards progressive ends. "As a person who's spent nearly 30 years fighting to get people out of poverty, it was somewhat humbling to realise that commerce played a bigger job than development. I'd say that's my biggest transformation in 10 years: understanding the power of commerce to make or break lives, and that it cannot be given into as the dominating force in our lives."
He's found the learning curve exhilarating. "I just want to know, and the way I get to know things is by doing them," he says. "I'm like that with anything. What's that? How does this work? Let's go in, let's find out. It's a lot of fun. I think it's quite dysfunctional when artists are over here, science is over there, politicians are in their own place… No, I'm not having that. I want to be able to walk through every room and listen and learn."
Regarding the powerful people he's dealt with, Bono says "the younger me wouldn't have liked any of them". I ask him if he misses certain aspects of that confused yet righteous youth and he replies by reciting the lyrics to The Morning After Innocence, a song from Songs of Experience, the work-in-progress sequel toSongs of Innocence.
"The older protagonist is asking the younger one for help," he explains. "The biggest problem that I face now is that I understand the dialectical nature of things. It can make you less clear about your response." He sounds wistful. "When I was younger, I knew what my position was on everything."
It's often overlooked how many of Bono's lyrics thrive on guilt and self-recrimination (in a certain light, Achtung Baby is an extended apology for going on the lash), but I suspect he can only beat himself up because he's fundamentally resilient, retaining the scrappy, headlong self-belief that got U2 off the ground in the first place. As he sings on the new album's final song, The Troubles: "I have a will for survival/So you can hurt me and hurt me some more."
What's more, he is still fired up by the prospect of the next room, the next person, the next record, the next glass of wine. He has made his life as interesting as humanly possible.
"There's some heat involved," he says, draining his glass. "But you get a nice seat in restaurants."
Dorian Lynskey
Sunday 12 October 2014
http://www.theguardian.com/
Posted by

mysteriousways
at 8:57 AM
No comments: